Rarely does the least expensive solution possess best-in-class features…
That changes with the launch of the new i2R B-Series CNC Router. The best technology and components have been selected to build what will surely be the new king of the entry-level CNC market.
Targeted specifically at the first-time CNC user, the new i2R lineup will be supported with a comprehensive manual and video library which are intended to dramatically shorten a new user's learning curve.
Our i2R CNC machines combine high quality components with precise engineering in order to provide you with an extremely capable power house, entry-level, CNC system.
The black, i2R CNC-UCCNC line is configured to work with the innovative UCCNC technology, allowing for a PC based control system. These machines are available in three sizes. Each one is engineered for precision with prismatic linear guides, a fully recirculating ball screw drive system, and an aluminum T-slot table. We also provide a full complement of accessories ensuring that you'll receive a package that's specifically tailored to your CNC needs.
If you're looking into buying your first CNC or looking to upgrade, the i2R lineup has what you need. Put your mind at ease knowing that every BG Precision machine is backed by full customer support and warranty.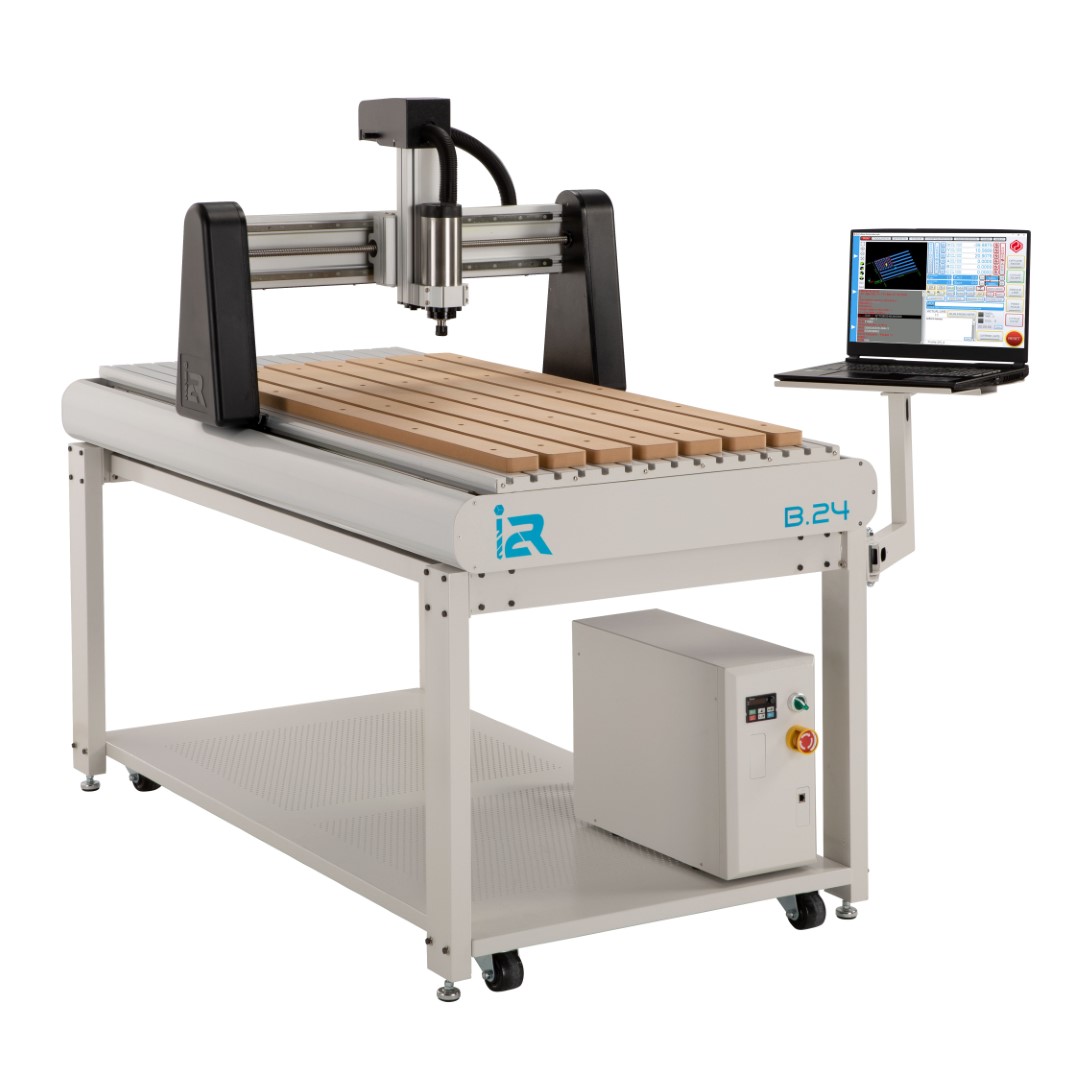 i2R CNC Routers – Professional and affordable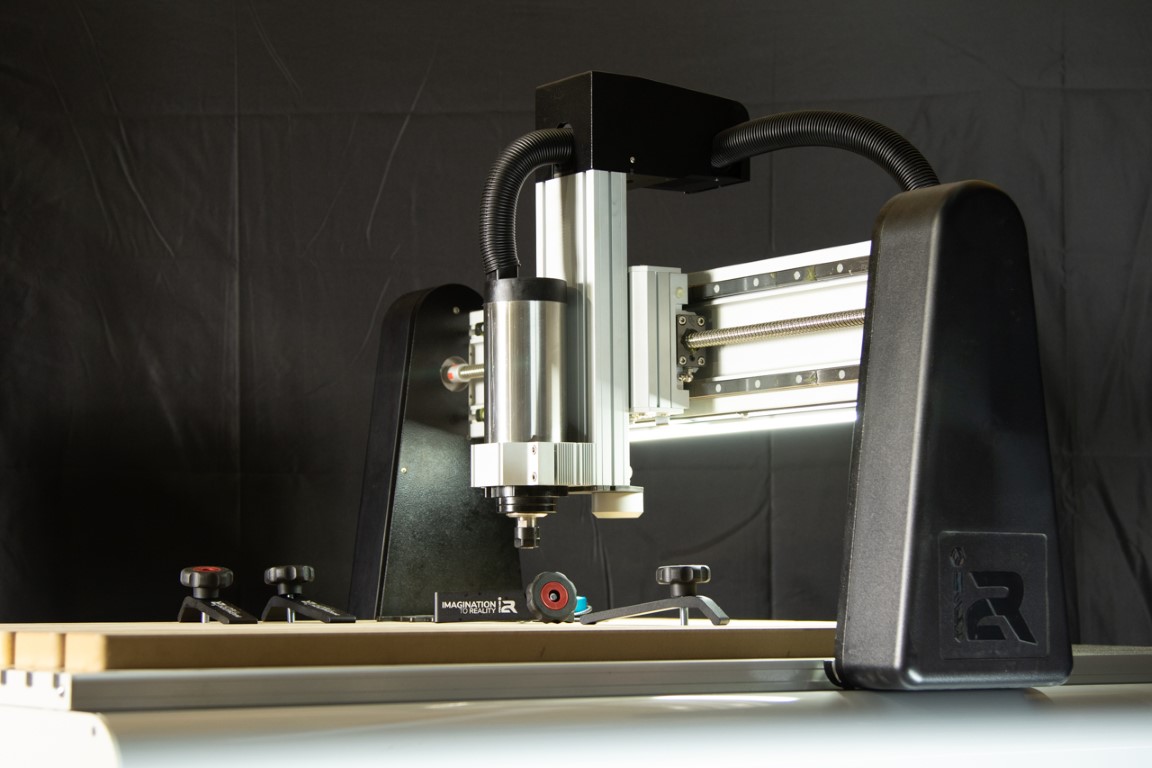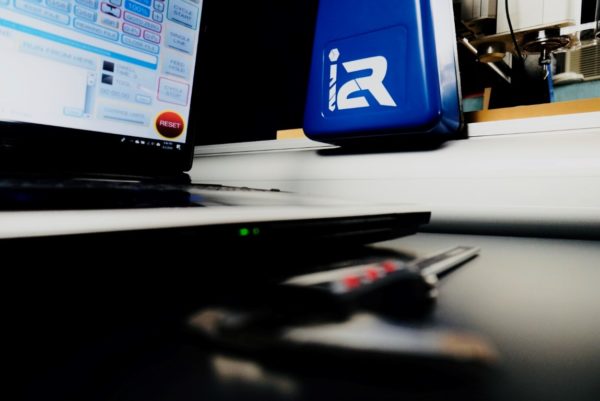 UCCNC Software PC Controlled
UCCNC is a full G-code CNC controller which allows the machine to be used with CAM packages such as Vectric. It allows you to control the i2R CNC router straight from your computer. From there you can start machining your project.
Precision Ball Screws
Motion on every axis of every i2R machine is controlled by high-precision ball screws. These ball screws utilize recirculating ball bearings to provide close tolerance and offer unmatched accuracy. Their ability to create low internal friction, while withstanding high thrust loads at high rates of speed, is paramount to the accuracy of each i2R CNC machine.
Cast Gantry Support
Heavy components travelling at a high rate of speed generate high forces of inertia. The horizontal gantry support (located beneath the table), and the vertical gantry legs take the brunt of that force. Each gravity cast aluminium component is powder coated and engineered to be completely overqualified for their job.
Z-Axis Automatic Touch Off Tool
Every i2R CNC machine comes standard with an automatic touch off tool for accurately determining your Z zero. Simply slide the tool touch-off device beneath the bit, initiate the 'Auto Touch-Off' command on your UCCNC interface, and the bit length will automatically be determined and stored in the UCCNC software.
High Torque Stepper Motors
Each axis is controlled by a NEMA 23 equivalent high-torque stepper motor. Each fast, device is rated for high duty cycles, and will provide thousands of hours of trouble-free precision.
High Rigidity Aluminum Frame
Our structural aluminum frame is rigid, and accurate. It supports the weight of your i2R CNC machine with ease. The frame is build around a solid base and offers mounting flanges in each corner to secure your machine to a optional stand, or your work surface.
Precision Linear Guide Rails
Our linear guide rails utilize recirculating bearings between a prismatic rail and a bearing block. The coefficient of friction on our linear guides is only a small fraction of what is created by traditional round guides, and are able to take loads in all directions. This is how our CNC machines achieve high precision and greatly enhanced moving accuracy.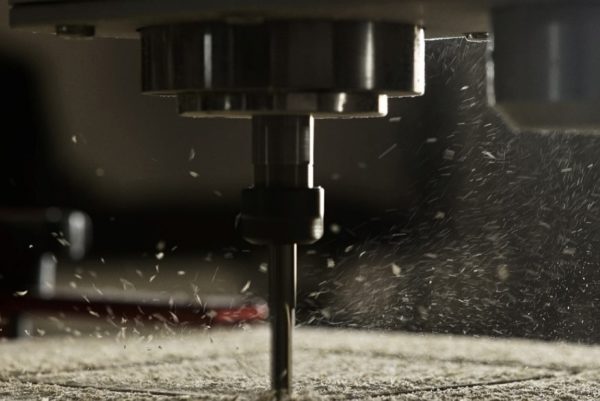 Air Cooled Spindle
Every i2R CNC machine comes with a standard VFD Driven, High Frequency air cooled spindle. At 800w, with max speed of 24,0000 RPM, it is silent yet powerful. spindle capable of performing any job.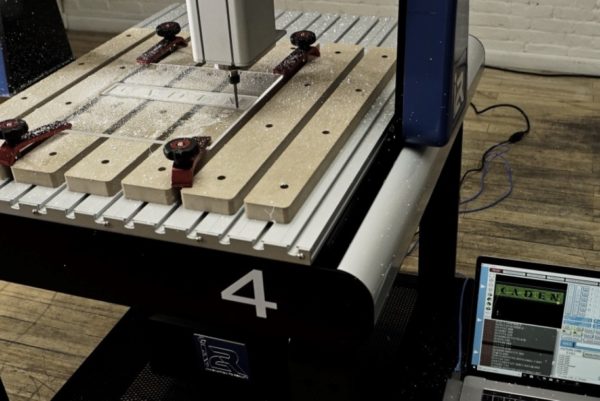 Interlocking Aluminum Table
This is a seriously strong table. The massive 30mm thick extruded aluminium table provides a strong, flat surface to support your material. Integrated T-slots allow placement of hold-down clamps in any location, and a sacrificial MDF spoil board ensures that your table will always remain flat and damage free.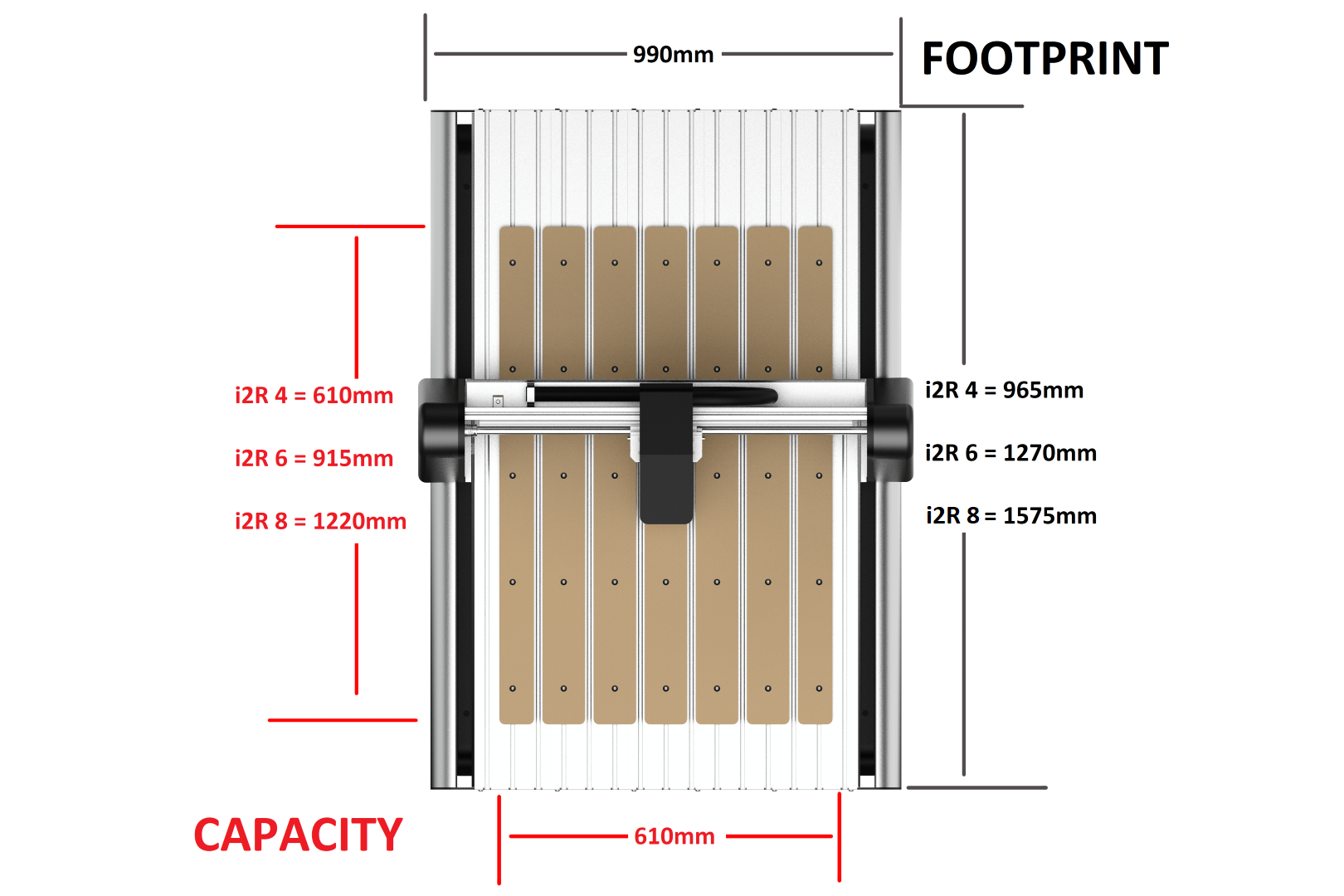 X axis travel
610mm
Y axis travel
B22 = 610mm
B23 = 915mm
B24 = 1220mm
Z axis travel
135mm
Table work area
B22 =  939 x 720 mm
B23 =  1245 x 720 mm
B24 = 1549 x 720 mm
Electro Spindle
1500W (2HP)

ER 16 Collet (1-10mm)

Spindle speed
0-24,000 RPM
Rapid feed rate
3500mm/min
Precision Linear Guideway
X/Y/Z
Precision BallScrew
X/Y/Z
BallScrew Diameter
15mm
Positional Accuracy
+/- 0.15mm
Power requirements
220V, 50Hz, 10A, 1-Phase
Working Table
High rigidity Aluminum Extrusion
Gantry bridge
High rigidity Aluminum Extrusion
Gantry Supports
Aluminum billet machined
Gantry Clearance
200mm
Machine Base
All Welded Steel Frame
Machine Dimensions
B22 = 965 x 990 x 711 mm
B23 = 1270 x 990 x 711 mm
B24 = 1575 x 990 x 711 mm
Shipping Dimensions
B22 = 1050 x 990 x 520 mm
B23= 1400 x 990 x 520 mm
B24 = 1680 x 990 x 520 mm
Machine Weight
B22 = 100Kg
B23 = 130Kg
B24 = 160Kg
Tool Touch Off
Included
Controller
UCCNC PC Control Software