The Axiom CNC Router is the best small format CNC router on the market that provides accuracy, performance, longevity, ease of use and simple fun! It was designed with home hobbyist, DIY workshops, small business and professional alike and with the many options of addition functionality to be added when the user is ready such as the 4th axis kit. We at BG precision only sell the Axiom CNC routers with a PC based control interface as we believe it's the most intuitive interface with plenty of functionality and suitable for non-experienced CNC operators. The Axiom is capable of machining all woods, most plastics, the correct grades of brass and aluminium.
Axiom CNC Industrial 4-axis CNC Controller
2.2KW High Frequency Electro Spindle
Integrated Liquid Cooling System
Interlocking Aluminium Table
MDF Sacrificial Spoilboards
Precision Ball Screws
Prismatic Guides in all Axes
Auto Tool Touch-off Plate
UCCNC PC based Software
Pre wired to accept our optional Rotary Kit
Pre Wired to accept our optional 6w Diode Laser Kit
Travel sizes | 610mm x 610mm | 915mm | 1220mm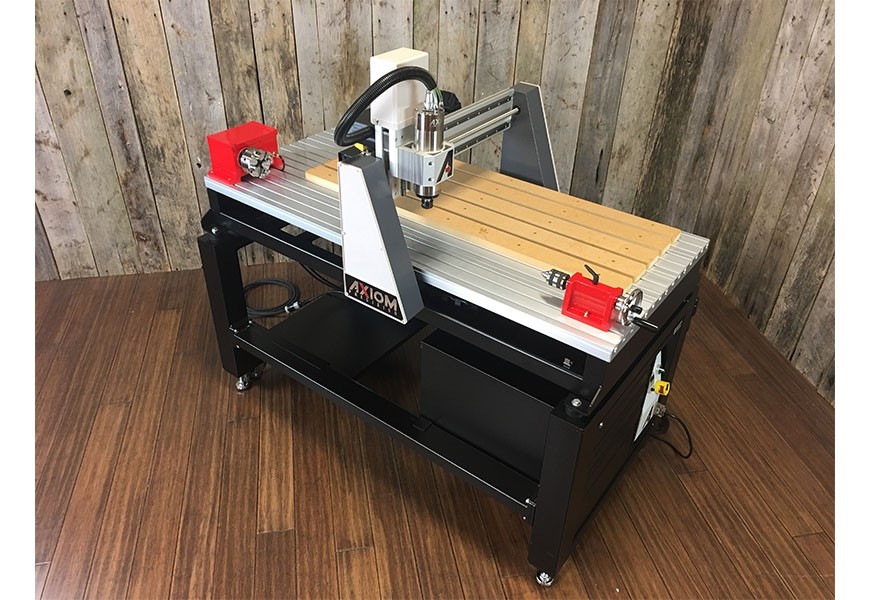 Whether you're simply cutting out 2D furniture components, producing an accent inlay, or an ornate 3D wood appliqué, the applications for a CNC router within the woodworking trade are nearly countless.
Need to produce a unique component? Wood, Aluminium, Brass, Composites, Phenolic, Foam, Plastic… If it can be cut with a spinning bit, Axiom Precision can produce it quickly and accurately.
Axiom Precision's capacity and accuracy make each machine a 3D carving powerhouse.  From large three dimensional objects, to fine furniture accents, you'll quickly produce accurate 3D carvings.
PROTOTYPING
Many of our present customers already own large, fast, and very expensive CNC machining centres.  They turn to Axiom Precision when they want a small, yet accurate machine to produce one-off components and prototypes.
The ability to use a CNC machining centre to carve letters and design elements into wood, plastic and aluminium has transformed the sign industry.  We offer the machines, software and accessories to produce nearly any sign you can imagine.
MILLWORK
Reproducing historic architectural components is a snap with Axiom Precision.  Brackets, capitals, arches, corbels, mouldings and more can all be produced with ease.
To simplify the machine features please below the AR Series Specifications. In a nutshell the Axiom CNC was built like an industrial CNC router just scaled down to a small format size. It still uses profiled linear rail and ballscrews which the best types of components available for linear motion. It comes with an industrial high frequency water cooled spindle which has been designed for continuous operation for long toolpath operations. That paired with our proven UCCNC PC based CNC control interface it promises the users interaction with this CNC Router to be a walk in the park.
S

C

HOOL or EDUCATIONAL FACILITY?
Small Format CNC for Schools
All of our small format CNC systems such as the i2r, Axiom and Symbiosis can easily be configured with the following:
High quality aluminium extrusion frame
Easy assembly and mounting of auxiliary components
360 degree polycarbonate clear panel on all sides
Large interlocking doors allow easy access
Machine working area is locked out while the machine is active
Three button panel with lockable E-stop, Green LED to indicate machine active or not and a "Stop Cycle" button
Addition E-Stop mounted on opposite side
Button panel, E-stop and door interlocks fully integrated with machine and PC control software
 AXIOM AR4 AR6 AR8
AXIOM specifications
Travel in X axis
610mm
Travel in Y axis
AR4 = 610mm | AR6 = 915mm | 1220mm
Travel in Z axis
153mm
Overall footprint
AR4 = 995L x 950W x 770H (mm)
AR6 = 1300L x 950W x 770H (mm)
AR8 = 1600L x 950W x 770H (mm)
Dimensions when shipped crated
AR4 = 1070 x 990 x 840 (mm)
AR6 = 1347 x 990 x 840 (mm)
AR8 = 1651 x 990 x 840 (mm)
Machine weights
AR4 = 120 kg
AR6 = 135 kg
AR8 = 150 kg
Bottom of collet to Tslot table height
165mm
Rapid Feed rate
5000mm/min (83mm/sec) in XY
2000mm/min (33mm/sec) in Z
Spindle Options
High power water cooled HF spindle
Software Compatibility
PC Based Ethernet controller running UCCNC software
Drive system Electronics
High power stepper motors
Limit and homing sensors
Inductive sensors running on 12V DC on XY and Z
Drive system
16mm Ballscrew drives on XY and Z | Repeatability within 0.05mm
Thrust support
Double angle contact bearings preloaded at thrust end of ballscrew support
Linear motion system
Profiled linear rails on all axes.
Cable management
Full cable management on all axes
Core components
Steel base | Cast Y cross member and up stands | Custom Aluminium extrusion bridge
Machine bed
Tslot table with integrated MDF spoil-board as standard
Tool length sensing
Configured for conductive tool touch off sensing
Contact us now for further details of the Axiom CNC Range