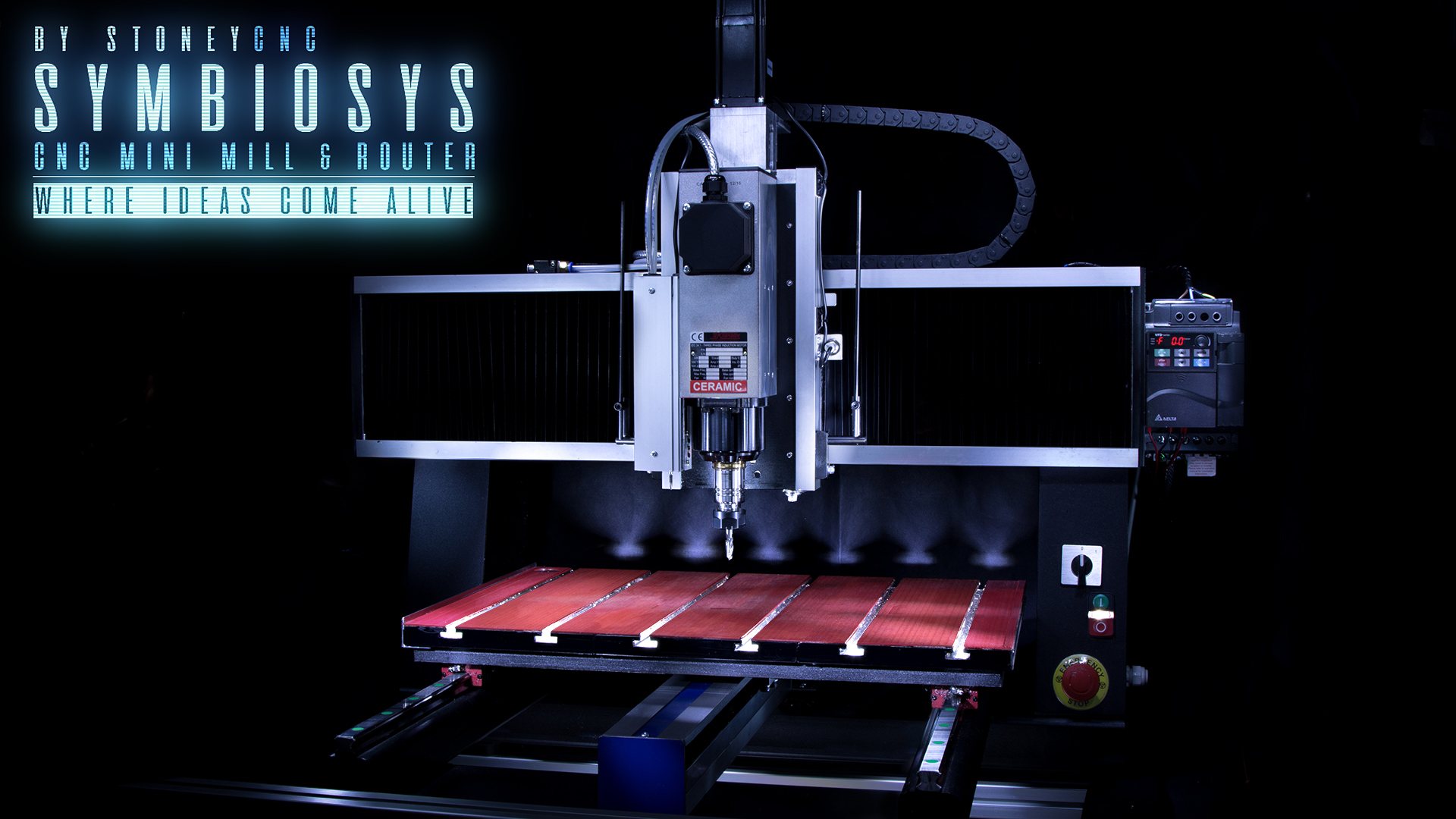 SYMBIOSIS-Router-Mill-Hybrid
In keeping our promise of bringing you the highest quality CNC products we have partnered up with Stoney CNC in Europe to offer you the SYMBIOSIS-Router-Mill-Hybrid system.  The Symbiosis can be configured in many different ways to meet your machining needs.
SYMBIOSIS | Bridging the gap between router and milling machine
Often router users like to use their machines to cut aluminium. Largely built out of aluminium frames, a CNC router has limited capacity to product a quality finish on Aluminium.
The CNC routers enemy when cutting aluminium is the main carcass stiffness. The SYMBIOSIS machine is an affordable Hybrid machine that can produce milling and routing performance in one package.
SYMBIOSIS can carry out all the typical routing operations. However under the bonnet SYMBIOSIS is very different. The heavy duty steel frame, 20mm HIWIN rails, 16mm ballscrews and fixed bridge design means the machine produces milling machine stiffness when milling aluminium
THE SYMBIOSIS HARDWARE PLATFORM
The machine weighs almost 200kgs. The steel used is thick walled box iron and laser cut plate. You will not find a stiffer small format CNC platform
250 Kg / 550 Pound steel frame
5mm steel box section wall elements
Fixed bridge moving gantry router mill hybrid design
Full ballscrew drive system on all axes
High load thrust bearings on all axes
600 x 400mm travel in XY
150mm of Z throat access | 120mm of travel
20mm Heavy duty HIWIN profile linear rails on all axes
FULL BALLSCREW DRIVE SYSTEM
Superior Accuracy, Efficiency, Speed and No Backlash.
Ball screws offer a high level of mechanical efficiency, can carry remarkably heavy loads and also produce minimal friction.  This is because they are designed with a nut in which ball bearings circulate. The ball bearings create a smooth gliding surface for the screw, thereby reducing friction and subsequently increasing the ball screw's lifespan.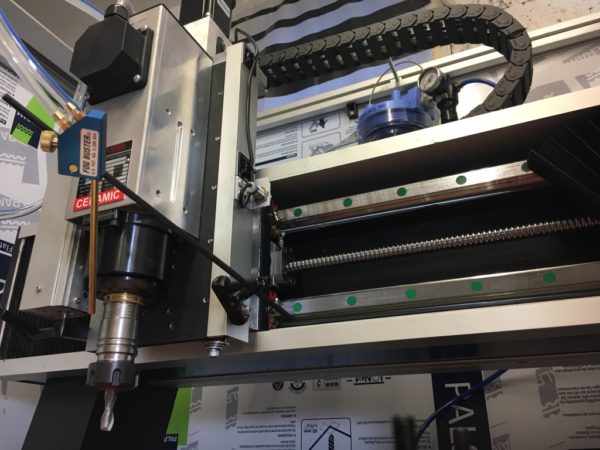 HEAVY DUTY HIWAN LINEAR RAILS
The Symbiosis machine is built on heavy duty HIWIN profiled linear rails. The profiled linear rails are one of the best linear motion system for machine stiffness.
The rails provide the highest level of system accuracy and stiffness to allow quality surface finish when machining alloys.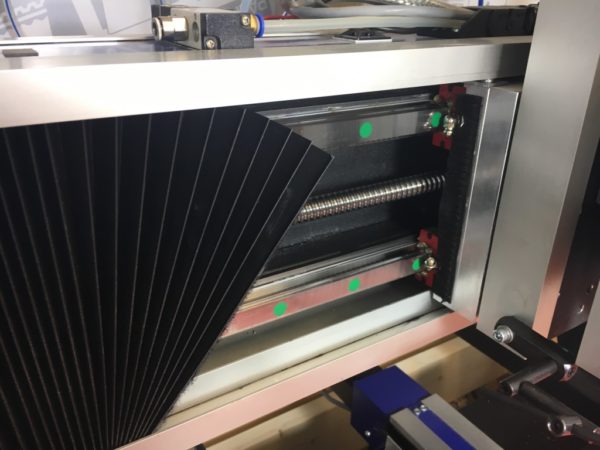 THE SYMBIOSIS SPINDLE SYSTEM
As standard the Symbiosis comes with a High Quality ER25 2.2kw Italian Spindle with Ceramic bearings
All spindles have double angled contact bearings in nose and tail
All spindles are fully balanced after a 12 hour run in period
All spindles come with a fully balanced collet nut
Driven through a VFD so all fully on/off and speed controlled with software
Fully upgradable controller and spindle support system
All spindles have full stated power output down at 12000RPM
OPTIONAL UPGRADE
Fully compatible with the Quick Tool Change system (QTC)
24V solenoid system to power FOGBUSTER with CNC controller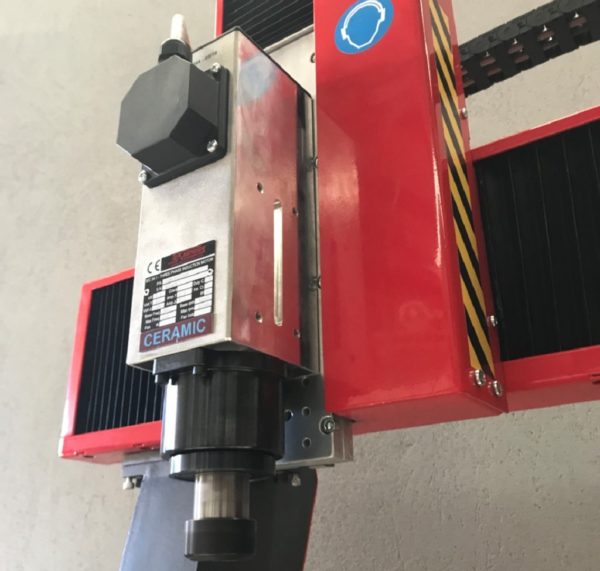 As standard the Symbiosis comes with an Aluminium T-slot table
Fully replaceable 20mm Tslot aluminum table
12 X M6 bolts secure the table to the Steel base plate
Steel table is datum machined by the machine itself for ultimate accuracy and bed tram
Table Accessories available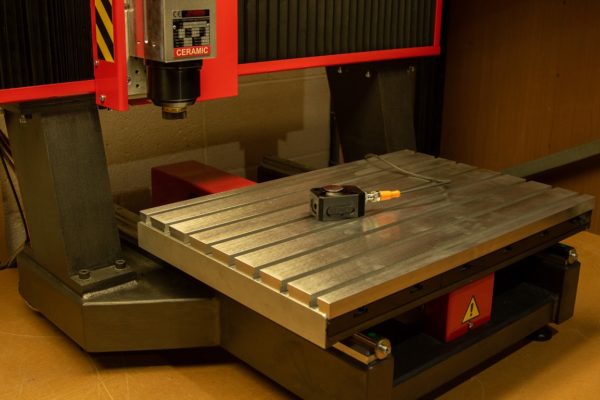 THE SYMBIOSIS DRIVE TRAIN
NEMA 23 2.5NM 4A stepper motors as standard
The motors are IP54 rated with fitted cable-glands
All cables EMC shielded
Significantly improved cable management and motor protection
75V DC High voltage high torque stepper amplifier system
Fully digital motor amplifiers
Up to 10,000mm/min rapids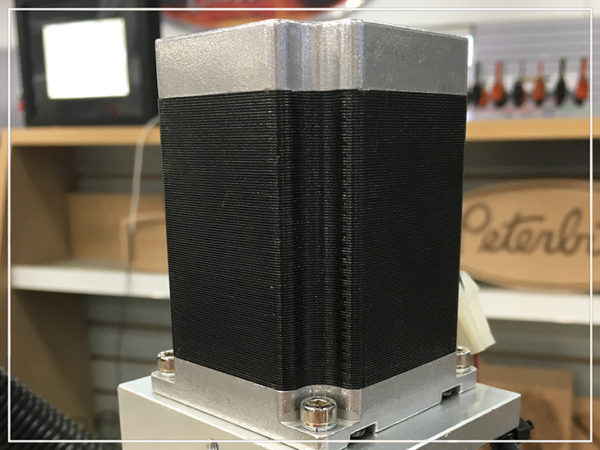 THE SYMBIOSIS CONTROL PLATFORM AND INTERFACE
Machine comes as standard with full UCCNC PC based control system with integrated 3 Axis and spindle control. This PC based control allows for real time feedback of machine position to minimise mistakes. There is unmatched graphical user feedback to the operator. It is compatible with a range of common CAM packages. Most importantly it is very intuitive operation for fast learning.
Ethernet connectivity for industrial performance