EXECUTIVE SERIES CNC ROUTER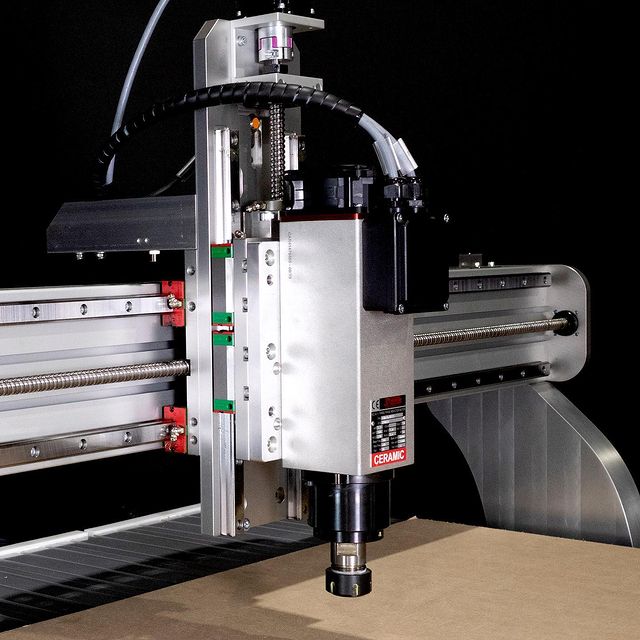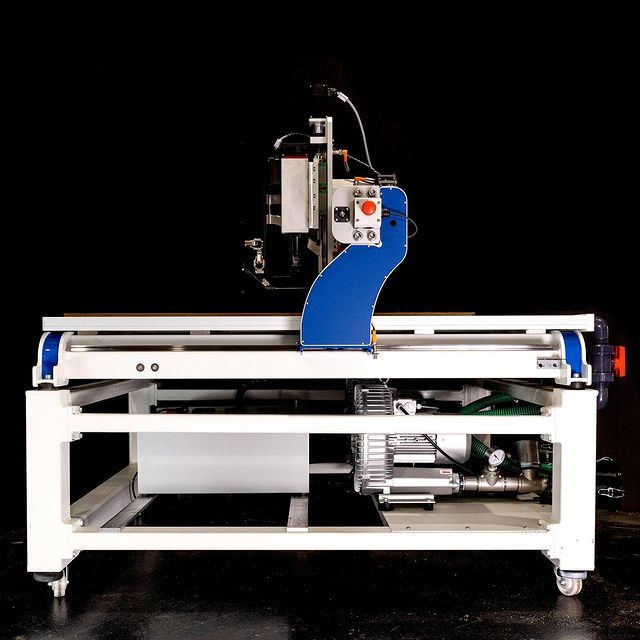 EXECUTIVE | Having the power to put plans or actions into effect
Named after the term EXECUTIVE, which by definition means having the power to put plans or actions into effect, the Executive CNC ROUTER lives up to this reputation.
The Executive CNC ROUTER by BG Precision will be offered in two sizes. The Executive 8 (1220x610mm) and The Executive 16 (1220×1220). This series represents our most advanced design development working with the UCCNC controller on a small format CNC router platform. This series caters to users with high production requirements in a small format offering high speed, torque and precision capabilities that can only be found high end machines but for fraction of the cost.
Our Executive CNC ROUTER offers a high quality Italian, ER25 2.2KW electro-spindle with ceramic bearings by TeknoMotor as standard. All Executive machines utilize 16 mm precision ball screws, massive HIWIN prismatic guides, a robust steel frame, and interlocking aluminium table. In addition, the integrated MDF spoil boards promise you the all precision you need with an upgrade option for an industrial vacuum table to increase productivity.
THE EXEC HARDWARE PLATFORM
The only way to build any industrial CNC platform is on a structural steel frame and there is no compromise on the Exec CNC Router. The steel used is thick walled box iron and laser cut plate. You will not find a stiffer CNC router platform
Fully welded steel frame
5mm steel box section frame elements
FEA analyzed upstands and main cross beam to maximize strength
Full ballscrew drive system on all axis
20mm Heavy duty HIWIN profile linear rails on all axis
High load thrust bearings on all axis
610 or 1220 travel in X
1220 travel in Y
200mm of Z throat access | 150mm of travel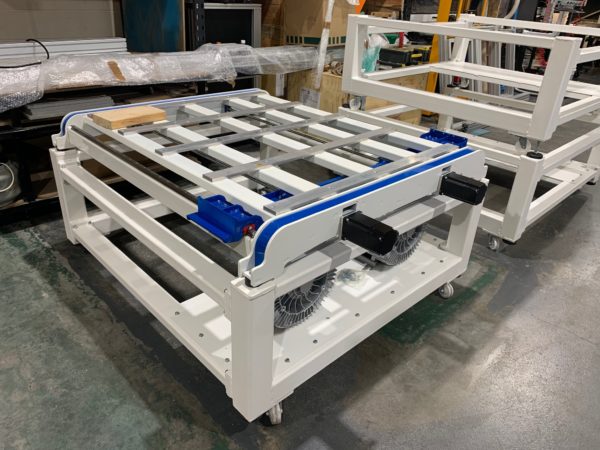 FULL BALLSCREW DRIVE SYSTEM
Superior Accuracy, Efficiency, Speed and No Backlash.
Ball screws offer a high level of mechanical efficiency, can carry remarkably heavy loads and produce minimal friction. This is because they are designed with a nut in which ball bearings circulate. The ball bearings create a smooth gliding surface for the screw, thereby reducing friction and subsequently increasing the ball screw's lifespan.
Motion on every axis of the EXEC CNC Router is controlled by high-precision ball screws. Their ability to create low internal friction, while withstanding high thrust loads at high rates of speed, is paramount to the accuracy of the EXEC CNC Router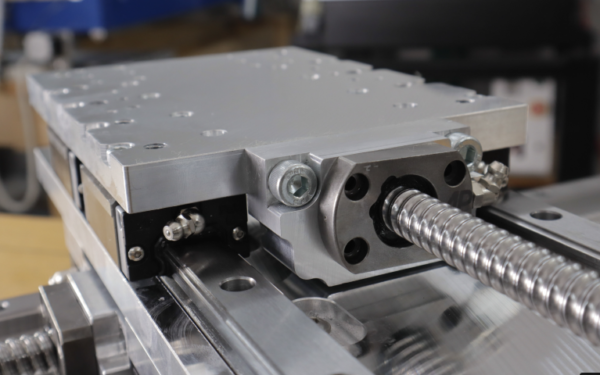 HEAVY DUTY HIWIN LINEAR RAILS
The EXEC CNC Router is built on heavy duty HIWIN profiled linear rails. The profiled linear rails are one of the best linear motion systems for machine accuracy.
The coefficient of friction on linear guides is only a small fraction of what is created by traditional round guides and can take loads in all directions. With these features, our CNC machines achieve the highest level of system accuracy and greatly enhanced moving accuracy to allow quality surface finish when machining woods, plastics and alloys.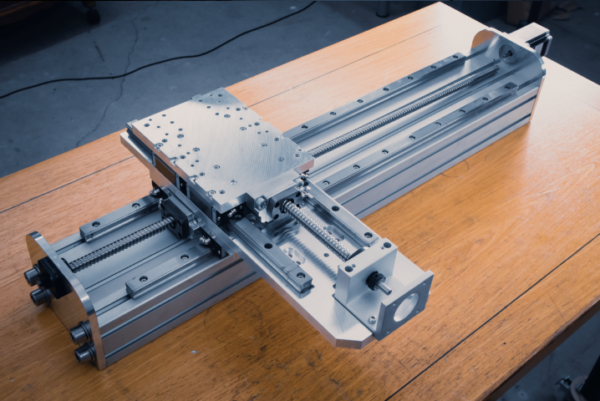 THE EXEC SPINDLE SYSTEM
Our Executive CNC ROUTER offers a high quality Italian, ER25 2.2KW electro-spindle with ceramic bearings by TeknoMotor as standard.
Fan cooling to help heat dissipation
All spindles come with a fully balanced collet nut
Max RPM 24000
Driven through a VFD so all fully on/off and speed controlled with software
OPTIONAL UPGRADE:
High Quality 2.2kW QTC solution using HSK30 tool holders
High Quality 2.2kw ATC ISO20 Italian Spindle with Ceramic Bearings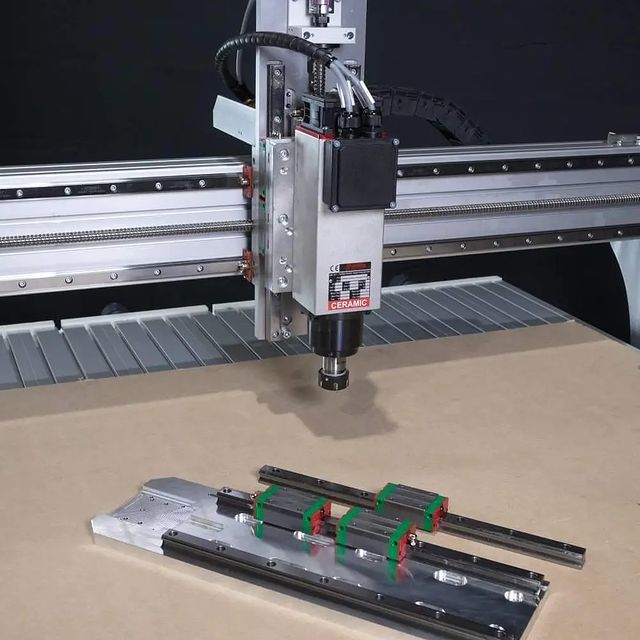 THE EXEC BED SYSTEM
As standard the Exec CNC Router comes with a high rigidity interlocking Aluminium T-slot table with integrated MDF sacrificial spoil board
The massive 30mm thick extruded aluminum table provides a strong, flat surface to support your material.  With integrated hold-down T-slot channels allowing placement of clamps and other accessories in any location and a sacrificial MDF spoil board ensures that your table will always remain flat and damage free
OPTIONAL UPGRADE: Industrial vacuum table to increase productivity
THE EXEC DRIVE TRAIN
NEMA 23 2.5NM 4A stepper motors as standard
The motors are IP54 rated with fitted cable-glands
Significantly improved cable management and motor protection
High voltage high torque stepper amplifier system
Fully digital motor amplifiers
Up to 10,000mm/min rapids
OPTIONAL UPGRADE: Closed Loop Servo Control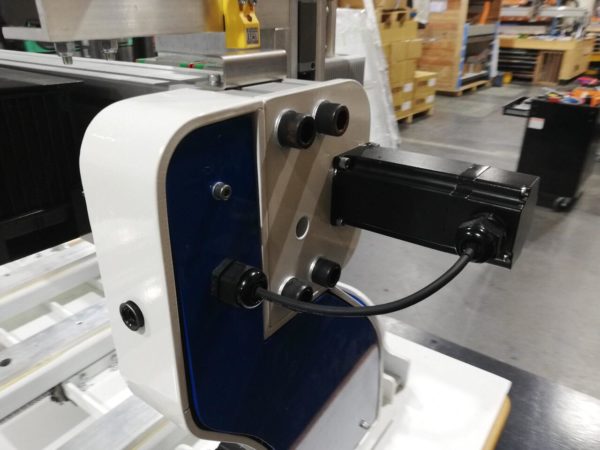 THE EXEC CONTROL PLATFORM AND INTERFACE
Machine comes as standard with full UCCNC PC based control system with integrated 3 Axis and spindle control. This PC based control allows for real time feedback of machine position to minimize mistakes. There is unmatched graphical user feedback to the operator. It is compatible with a range of common CAM packages. Most importantly it is very intuitive operation for fast learning.
Ethernet connectivity for industrial performance
Unlimited functionality
Intuitive user interface
Endless customization
International User community with web forum support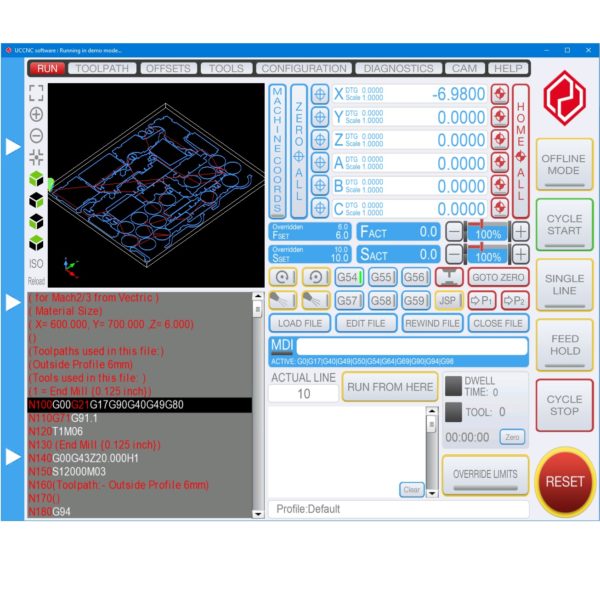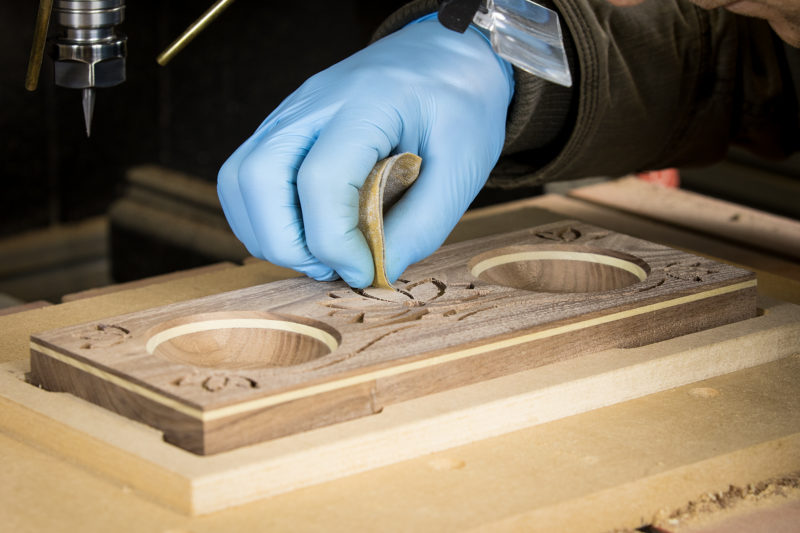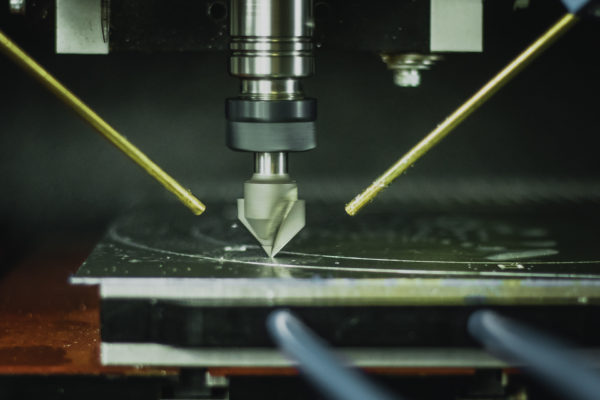 THE EXECUTIVE CNC ROUTER – ENGINEERED WITH A DIFFERENCE
ENGINEERED using Finite Element Analysis – FEA
Heavy components traveling at a high rate of speed generate high forces of inertia. The horizontal gantry support (located beneath the table), and the vertical gantry legs take the brunt of that force.
The EXEC CNC Router has undergone full Finite Element Analysis (FEA) of the upstands and main cross beam to maximize strength of the bridge assembly. These components are truly engineered to the highest degree and are the reason behind the EXEC CNC Router superior strength.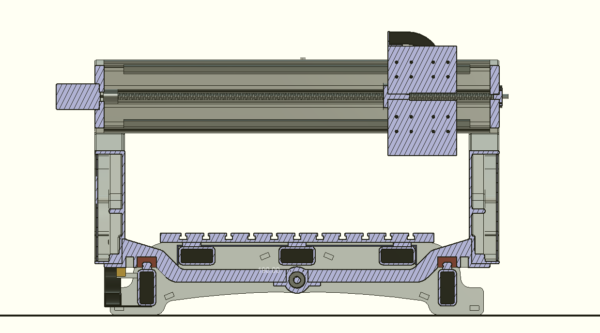 MANUFACTURED Custom Design Components
Common mistakes seen in the design of CNC machines is a weak connection between the bridge and the horizontal gantry support which the long axis ballscrew drives. The component of the assembly is called the gantry upstand.
From the FEA it is apparent that a strong upstand is the critical component in bringing the entire assembly together and the EXEC CNC Router upstand is a CNC work of art itself. Machined from 80mm billet aluminum its been dished out to reduce weight and inertia on the bridge assembly but left with critically located stiffening ribs internally.
NEXT LEVEL Assembly Processes
As the welded steel frame of the EXEC CNC Router is the base for the Tslot many addition steps are taken to ensure the bed is perfectly aligned with the machine gantry and truly flat.
The machine itself during the assembly process is used to skim alloy strips tramming them flat. The Aluminium Tslots table is then bolted on top. This process results in the most accurately trammed bed design possible and results in minimal variation across the router bed. We still recommend mounting your spoil board surface and machining this for the best and most accurate on site bed tram setup.
NO COMPROMISE Structural Design
The distance from the tip of the cutting tool all the way to bridge can create a strong moment when a cutting force is applied and if not treated seriously can result in inaccuracies on your work, poor surface finish and even broken bits.
To counteract this an 80 x 160mm aluminium bridge that we've used in the larger tabletop machines up to 2000mm wide has been implemented on the EXEC CNC Router
INGENIOUS Design layout
The EXEC CNC Router has been designed with serviceability and maintainability in mind.
After many years working on many different brands of CNC machines feedback would suggest replacing, adjusting or maintaining some parts of a CNC can be very difficult and time consuming.
All components of the EXEC CNC Router have been placed with this in mind and while protected where needed are easily accessible for ease of serviceability.
EXEC CNC Router Table of Specifications
Exec 8
Exec 16
Table Working Area
1220 x 610 mm
1220 x 1220 mm
X axis
Nema 23 High Torque Steppers
Nema 34 NM High Torque Steppers
Y axis
Nema 23 High Torque Steppers
DUAL Nema 34 NM High Torque Steppers
Z axis
Nema 23 High Torque Steppers
Nema 23 NM High Torque Steppers
Linear Guides
20mm Profile Linear Guides on all axis with 4 carriages per axis
20mm Profile Linear Guides on all axis with 4 carriages per axis
Drive Motion
16mm Ballscrews on X, Y , Z Axis
16mm Ballscrews on X, Y , Z Axis

Dual Ballscrews on Y Axis

Rapid Feed Rate
Up to 10,000mm/min
Up to 10,000mm/min
Repeatability tolerance
±0.05/300mm
±0.05/300mm
Spindle System
2.2kw ER25 air cooled Spindle (0 – 24,000 RPM)
2.2kw ER25 air cooled Spindle (0 – 24,000 RPM)
Gantry Bridge
160 x 80mm heavy duty Maytech Alloy Bridge
160 x 80mm heavy duty Maytech Alloy Bridge
Gantry Supports
FEA designed webbed Aluminum upstand construction
FEA designed webbed Aluminum upstand construction
Gantry Clearance
As standard 200mm clearance – and repositionable Z height
As standard 200mm clearance – and repositionable Z height
Z AutoTouch Off
Included
Included
Controller
High voltage stepper controller system with full UCCNC control. Servo options available
High voltage stepper controller system with full UCCNC control. Servo options available
Power requirements
230v 1phase – main machine will run off a 10A single phase supply
230v 1phase – main machine will run off a 10A single phase supply