FOG BUSTER – Precision Cooling and Lubrication without the FOG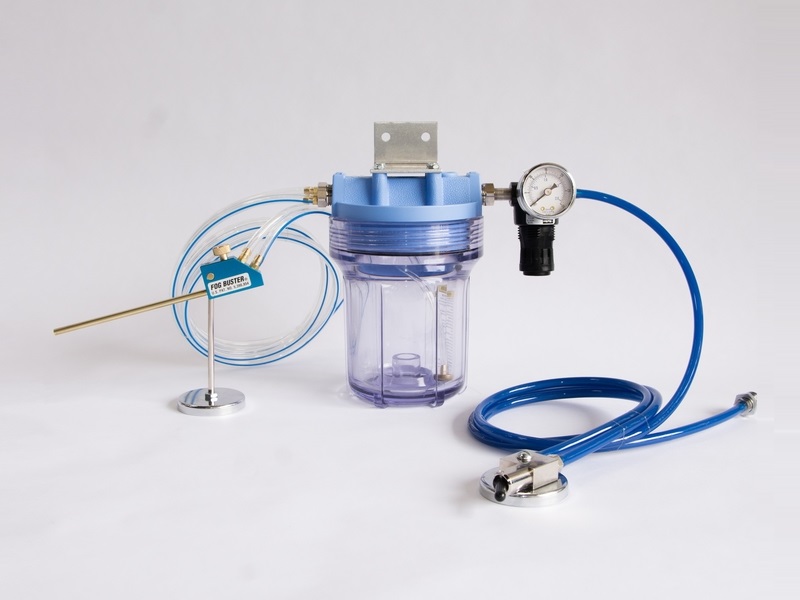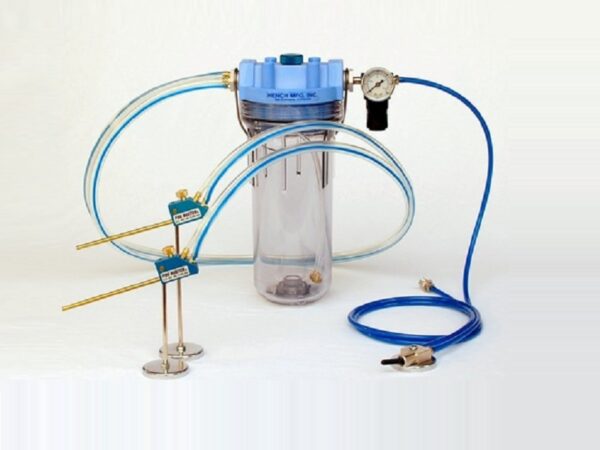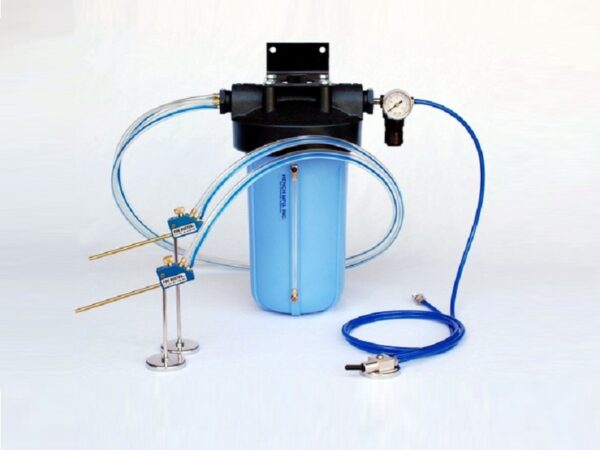 The Fog Buster is a patented low-pressure high volume sprayer that delivers a precisely targeted spray to the cutter and work piece without fine atomising of coolants, eliminating unwanted coolant mists or fogs that carry into the surrounding air, also reducing coolant waste. The absence of airborne oil based pollutants reduces the health risks associated with mist coolant systems significantly.
Excellent for milling, drilling, grinding, tapping, sawing, and lathe operations, the Fog Buster increases tool life and improves material finishes by directing coolant accurately to the work piece along with a strong air flow that cools, clears chips, forces coolant into pockets and holes, allows faster cutting speeds, and keeps the work piece clean for fast, easy handling.
The system provides a very clean and controllable way of directing coolant to a cutting operation. The sprayer nozzles have adjustable valves that can be used to reduce the amount of coolant to a minimum.
Fog Buster offers a wide range of independent coolant and air flow adjustment, uses virtually any type of coolant, and its unique high volume, low-pressure design operates on only 10 to 20 PSI. Fog Buster's pressurized system delivers a reliable, uninterrupted flow of coolant to the work piece. It's instant on and off operation, and ease of adjustment, make it a real time saver.
Fog Buster is also great for spraying light oils and lubricants in any number of applications such as, metal forming, rolling, stamping or wherever you need targeted lubrication.
Precisely Targets Coolant Without Fogging
Instant On and Off Response – Manual or Solenoid
Pressurised  System for Continuous Flow
Wide Range of Adjustments for Varied Applications
Injects Coolant Deep Into Pockets and Holes
Clears Chips from Cutter and Workpiece
Allows Higher Cutting Speeds and Increased Tool Life
Drastically Reduces Coolant Waste
Uses Virtually Any Type of Coolant or Lubricant
Creates a Healthier Work Environment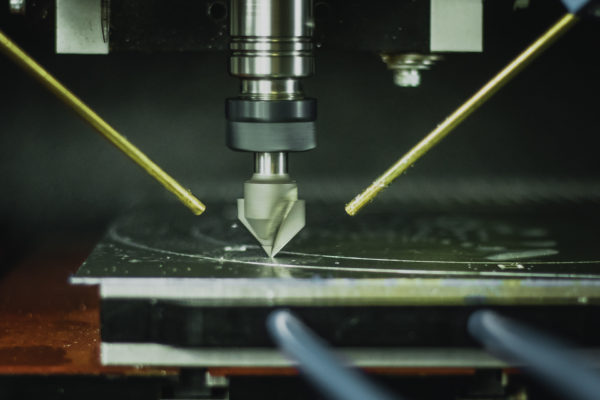 Unlike common mist coolant systems, the Fog Buster does not atomise coolant at the nozzle tip. Coolant is carried accurately with the air stream after leaving the nozzle and will produce a small spray pattern from several inches or more from its target. Because coolant is not atomised into a fine mist, it will not float into the surrounding shop air. With virtually all of the coolant being utilised on the part and tool, greater cooling and lubrication is achieved along with a reduction in coolant waste.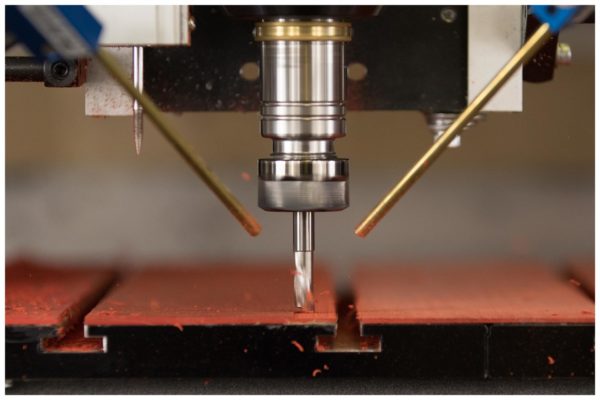 The pictures below were taken at the exact same camera settings. As you can see the difference is amazing.
The Fog Buster produces a unique spray of coolant drops that are too large to float into the surrounding air.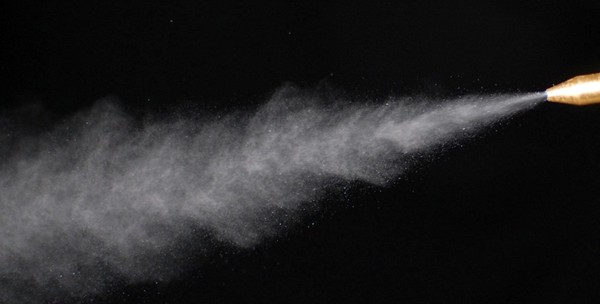 The spray mister atomises coolant so fine that you can literally smell it in the air within seconds after turning it on.
FOGBUSTER MINI
MODEL 10500
Specifically designed for MQL applications for use with quality lubricants that do not require diluting with water.
The 16 oz capacity reservoir offers more efficient on/off capability with faster response time and uses less air to pressurize the system.
Available with single sprayer head only.
DESCRIPTION:
Model 10500 FOG BUSTER – MINI comes complete with a standard 5 ft length of dual air/coolant tubing from the coolant reservoir to the sprayer head, a manual on/off air switch and mounting bracket.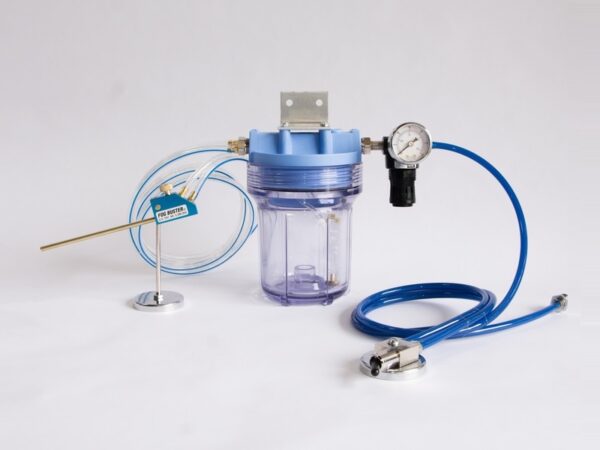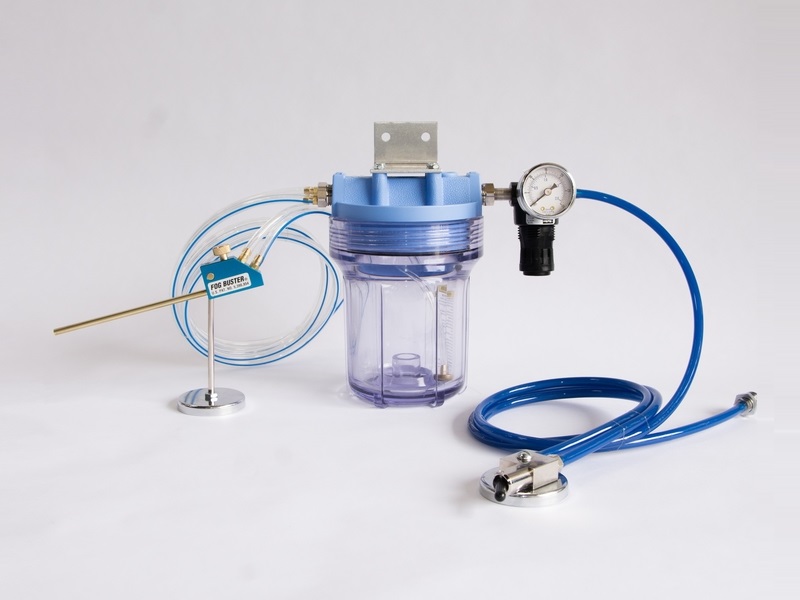 FOGBUSTER HALF GALLON
MODELS 10100 & 10200
The clear reservoir made of Styrene-Acrylonitrile (SAN) makes it easy to view the coolant level and the single head model can be upgraded to a dual head later if desired.
DESCRIPTION: Models 10100 single head and 10200 dual head FOG BUSTER come complete with a standard 5 ft length of dual air/coolant tubing from the coolant reservoir to the sprayer head, a manual on/off air switch and a steel wire handle to hang it.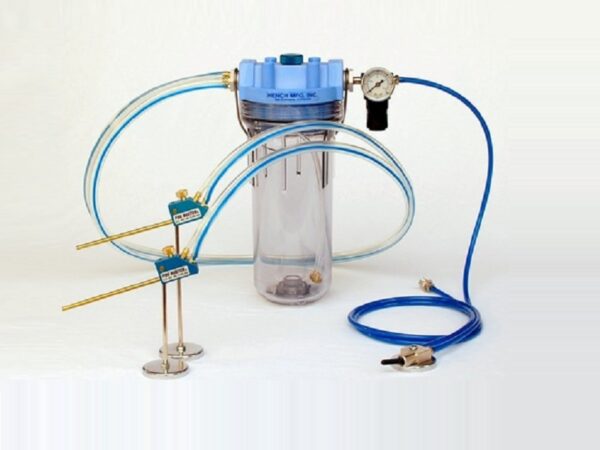 FOGBUSTER ONE GALLON
MODELS 10110, 10210, 10310 & 10410
The rugged opaque blue Polypropylene reservoir makes it generally more durable and shatter resistant. It is compatible with many different coolant options and is fitted with a sight gage to view the coolant level.
Available with up to four sprayer heads making it ideal for applications that require more coolant dispersal on the work piece.
DESCRIPTION: Our one gallon model FOG BUSTER comes complete with a standard 5 ft length of dual air/coolant tubing from the coolant reservoir to the sprayer head, a manual on/off air switch and a mounting bracket.