CR Onsrud use Fanuc Industrial controllers with a 2 year warranty and lifetime support

24 hours a day, 7 days a week, 365 days a year online diagnostics by CR Onsrud Factory

Faster Acceleration, Faster speeds and Faster cycle times

50,000 mm/min programable feed rates standard even on entry level machines

3 times the physical weight of most our competitors, these machines are built to last

Automated Nested Sheet Offload System with Integrated Dust Extraction available

Onsrud Automated Material Infeed System with Scissor Lift available

Air Conditioned Electronics Cabinets to ensure top performance in all environments

"OSYNC" machine monitoring software – maintenance & employee performance
CR Onsrud, Inc. specializes in high quality CNC Router and CNC machinery designed for the aerospace, woodworking, plastics, and composites industries. We offer a comprehensive line of high-precision machining products including almost 50 standard models of 3-Axis, 4-Axis, and 5-Axis CNC Routers, CNC Mills, and CNC Machining Centers. Our CNC machines are offered in Cast-Iron Fixed Bridge, Twin Table, Single Table, and Steel Frame Moving Gantry designs. Most CR Onsrud CNC Routers include 12-position tool changers, high grade "off-the-shelf" standard components, 24/7 tech-support, and all can be customized via a full menu of standard options including: multi-spindle drills, aggregate ability, rotational C-Axis, 5-Axis, multi-spindle, and dual process configurations. CR Onsrud is well known for superior service capabilities, high-tech training facilities, and an extensive Applications Engineering department to further reinforce our pledge to provide the industry with the best products, service, and customer support!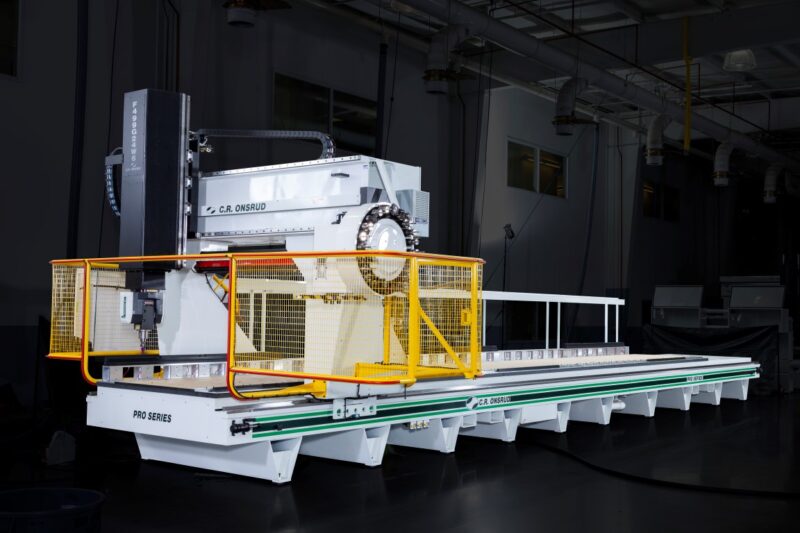 C.R. Onsrud CNC machines are found in the manufacturing facilities of many of the largest brands in the world, and our team takes pride in living up to those lofty  standards. Walk into manufacturing facilities across the world, and you'll see components and parts beings made on our machines for Boeing, Goodyear, Steinway & Sons, and many, many more. They'll immediately tell you the value and performance the Onsrud label brings to their bottom line. We've been around for decades cutting wood, metals, composite materials, plastics, and more.
From our state-of-the-art factory in Troutman, North Carolina, C.R.Onsrud manufactures some of the most highly sought-after CNC machines on the market today. Design, engineering and production teams, spend many long hours, tirelessly crafting, building and tuning your machine, and every product that departs our facility, is a unique and exceptional workhorse – created with your specific manufacturing need in mind. Companies turn to us for their machinery needs, because we can offer them a tailor-made solution rather than an off-the-shelf, stock machine. The bottom line is, the machine we build for you, will help your business grow, not just meet the production demands you have today. The only limit to what our CNC machines aren't cutting yet, is your imagination.
Explore the CR ONSRUD Range
Contact us now for further details of the CR ONSRUD CNC Range